Developing Recreational Sea Angling Opportunities at Skerries Bank
The Skerries Bank Angling Zone was one of three sites selected as a pilot study to introduce appropriate fishery management that would proactively develop the Recreational Sea Angling ("RSA") sector. A Voluntary Code of Conduct was developed which aimed to balance the different sectors' needs. Data collected in 2015–2016 were used to produce a baseline report which highlighted there is much overlap, both spatially and seasonally, in the use of the site between commercial fishers, recreational anglers and charter boat users.
Between data collection and the writing of the baseline report, the Netting Permit Byelaw was introduced in 2018. Due to the length of time that has passed since the original data were collected (in 2015) and the subsequent introduction of the Netting Permit Byelaw, D&S IFCA determined that a "Call for Information" consultation should be undertaken in order to establish whether the Skerries Bank Angling Zone has been of any benefit to the RSA sector and whether additional formal management is potentially required. The consultation began on 9th November 2022 and ended on 9th December 2022, though several additional responses were received in early January 2023 and have been taken into account. Stakeholders from the commercial, charter boat and recreational sectors were directly contacted about the call for information and were invited to respond.
The consultation consisted of a questionnaire for each sector. The first half of the questionnaire focused on awareness of D&S IFCA and the Angling Zone, as well as the amount, location and type of fishing being conducted, whilst the second section of the questionnaire focused on management and compliance.
THE CONSULTATION RESPONSE
The responses received from the consultation have been summarised per sector into the report and any recurring themes have been highlighted. The report can be read here.
Overall, the responses suggest that there is still conflict between the groups, particularly between the commercial and recreational sector in terms of fishing gear, spatial access and fish stocks.
NEXT STEPS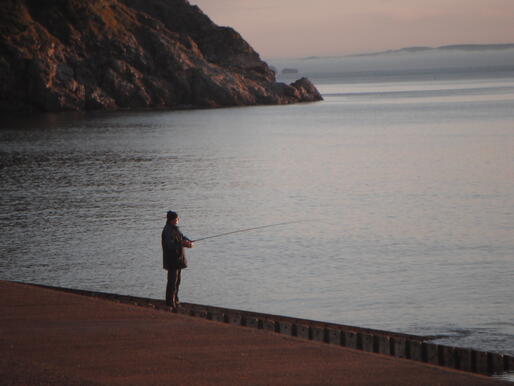 D&S IFCA are now in the process of developing a long-term plan in order to continue to manage the conflict between the commercial and recreational sector and to continue D&S IFCA's commitment to the development of the RSA sector.
If you would like to find out more about D&S IFCA'S environment and research work, please visit the Environment & Research webpages.
OTHER ANGLING NEWS
For more news relating to angling please, including the Catchwise Angling Surveys, please visit our Angling News website page.