Devon and Severn seize pots
At 1700 hours, on the 8th September 2023, Devon and Severn Inshore Fisheries and Conservation Authority (D&S IFCA) Enforcement Officer Christopher Mills inspected static gear located at KINGS HOLE near BEER.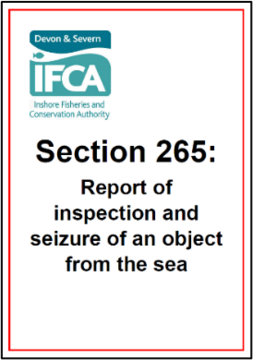 The inspected gear consisted of:
A string of two black plastic Poly-Pot prawn pots with attached line and marker buff.
The pots were seized and are held in the D&S IFCA's gear storage compound.
The pots, used for fishing for prawns were seized because:
The marker buff was marked with an expired Permit number.
THE POTTING PERMIT BYELAW
Paragraph 2 of the D&S IFCA Potting Permit Byelaw states:
2. It is prohibited for a person to use pots for fishing within the District otherwise in accordance with a permit.
CLAIMING THE POTS
If you believe these pots are yours then please contact the D&S IFCA Office or Enforcement Officer Christopher Mills.
D&S IFCA Office: office@devonandsevernifca.gov.uk
Tel: 01803 854648
Enforcement Officer Christopher Mills: c.mills@devonandsevernifca.gov.uk
Tel: 07850 096030
It is proposed that D&S IFCA will retain the pots and conduct an investigatio