Engagement Sessions – Fisheries Management Plans
The Marine Management Organisation sets out dates for engagement events focussed on English Channel Skates and Rays
The Marine Management Organisation have announced that they are going to be out and about speaking with fishers about the future management of skates and rays in the English Channel.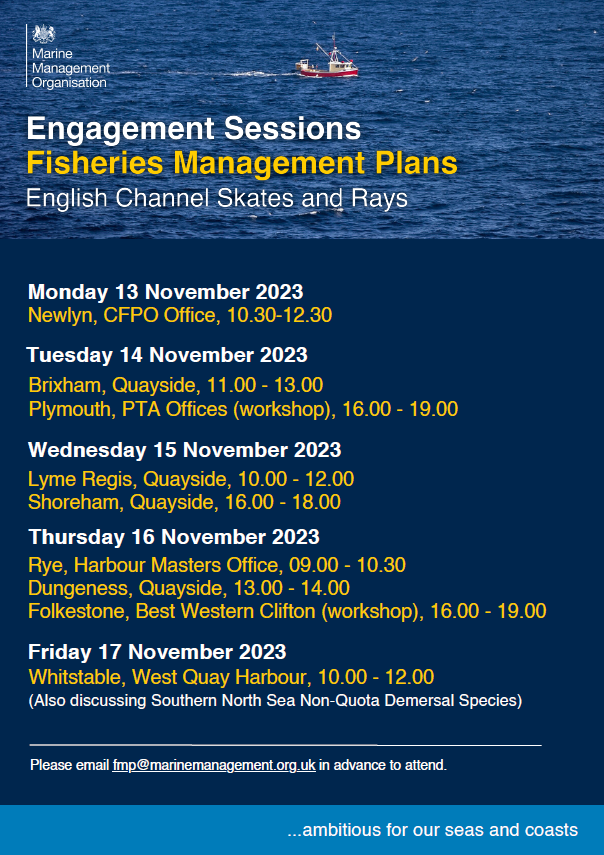 The MMO value your views so please come along and have a conversation with them. If you can't make it to one of the MMO's sessions, please send them an email saying what's concerning you and what you would like to see being done.
Officers from the MMO will be speaking to stakeholders to provide information on the FMP, to answer questions, and to gather feedback on their management recommendations. In addition to the dates advertised in this news item, two workshops will also be held in Plymouth and Folkestone where the MMO aim to have more detailed discussions and trade-off conversations with invited stakeholders.
The MMO have a second set of dates (week commencing 4th December) for further events that will be published next week.
You can follow news about the events using links below and D&S IFCA is helping to support the Marine Management Organisation (MMO) by highlighting and circulating the information that has been produced.
Links
More Information
The dates for the engagement events are being directly circulated to contacts on D&S IFCA's mailing list. D&S IFCA's mailing list is used to give you a range of information, relating to D&S IFCA's work and that of partner organisations, that could be of interest to you.
If you wish to be added to D&S IFCA's mailing list, please contact the Office.
D&S IFCA's privacy policy can be found on the home page of D&S IFCA's website.