Who we are & our core work
Who we are & our core work
Page review/updated 24/09/2023
WHAT IS D&S IFCA AND WHAT DOES IT DO?
The Marine and Coastal Access Act 2009 (MaCAA) introduced a new framework for managing the marine environment and providing greater access to it. This Act of Parliament replaced Sea Fisheries Committees with Inshore Fisheries and Conservation Authorities (IFCA's) and is fundamental to the work of D&S IFCA.
The D&S IFCA is the largest of the ten separate IFCA districts and has two separate coastlines. The area of the District is 4522km² and is defined in the Statutory Instrument (2010 No. 2212). The D&S IFCA District includes the areas of Devon and Severn (Devon County Council, Torbay Council, Plymouth City Council, Somerset Council, Gloucestershire County Council, Bristol City Council, North Somerset Council and South Gloucestershire Council) – and all adjacent waters out to six nautical miles offshore or the median line with Wales. The Latitude and Longitude positions of our district can be found in the Byelaw booklet.
"D&S IFCA will lead, champion and manage a sustainable marine environment and inshore fisheries, by successfully securing the right balance between social, environmental and economic benefits to ensure healthy seas, sustainable fisheries and a viable industry"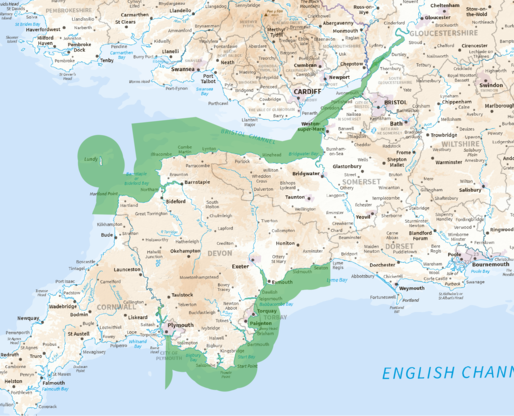 The Full Authority is comprised of 30 Members drawn from relevant Local Authorities (Councillors), General Members (appointed to the Authority by the Marine Management Organisation (MMO) and Statutory Appointees representing the Environment Agency (EA) and Natural England (NE).
FUNDING
D&S IFCA is funded primarily from Central Government, with additional contributions from the eight relevant funding Local Authorities. D&S IFCA's Revenue Budget of £827,700 for FY 2022-23 was the lowest among the nine mainland IFCAs and was £64,580 lower than the next lowest IFCA's Revenue Budget and £747,130 less than the best resourced IFCA.
STAFF
D&S IFCA has thirteen full time Officers and two part-time Officers. The office is situated in Brixham, although Officers do also work from home.
CORE WORK UNDERTAKEN
The duties of D&S IFCA are set out in the Marine and Coastal Access Act 2009 (MaCAA)
Section 153 (Management of inshore fisheries) and Section 154 (Protection of marine conservation zones) underpin much of the work conducted by the Authority.
In meeting the main duties specified in MaCAA, the work of D&S IFCA is basically divided into different areas as follows:
These duties include enforcing the Byelaws (or permit conditions) implemented by D&S IFCA, which include restrictions introduced to protect Marine Protected Areas (MPA's). In addition, D&S IFCA's enforcement Officers enforce EU and domestic fisheries legislation. The enforcement team currently have use of two separate Rigid Inflatable Boats (R.I.Bs) that are owned by D&S IFCA. This includes a 7.8 metre vessel named the David Rowe to honour the memory of a former Authority Member and also a 6.4 metre Tornado vessel. D&S IFCA works closely with other organisations such as other IFCAs, the Marine Management Organisation (MMO), the Environment Agency (EA) and the Boarder Force (BF) with which it shares the use of assets. D&S IFCA is committed to the use of new technologies for enforcement purposes, particularly remote technology.
Research and survey work conducted by D&S IFCA informs evidence bases subsequently used to manage fishing activities via the introduction of local management measures that can include legislation in the form of Byelaws. D&S IFCA works in co-operation with other organisations to conduct research work and also takes environmental advice from Natural England (NE). D&S IFCA's research and survey work (and external research and advice) also informs longer term management that can be achieved via the permitting byelaws that contain flexible permit conditions.
BYELAW WORK (INCLUDING ENGAGEMENT)
The Byelaw work is often a lengthy and complex process. It requires specialised skills and background knowledge. This Authority has created a Sub-Committee to conduct the byelaw work. The Byelaw and Permitting Sub-Committee is formed by a selection of Full Authority Members, each offering a different set of skills or background knowledge that is utilised to complete the required work. Officers prepare the material used by the Sub-Committee for their deliberations (meetings). The Byelaw and Permitting Sub-Committee have been given delegated powers for Byelaw work.
There are a number of legacy byelaws in place that were inherited from Devon Sea Fisheries Committee. All legacy byelaws must be reviewed. In addition to reviewing legacy measures, members of the Sub-Committee are also tasked with reviewing flexible permit conditions that can result in potential changes to the permits that are issued to fishers. The outcomes of the byelaw related work are documented in reports published on the website. Section F of D&S IFCA's website Resource Library contains byelaw development reports and Impact Assessments (Byelaw Creation & Changes to Permit Conditions). Section B of the website Resource Library contains the minutes from B&PSC meetings.  
All of the separate elements of the byelaw work are a team effort. Although the Officers prepare the majority of the material (reports) required for the process, the officers do not take decisions at any time. The byelaw work involves a lot of consultation and engagement work. D&S IFCA has a consultation website page and uses a range of communication initiatives for its engagement work.
To date D&S IFCA has introduced multiple management measures, including many relating to the protection of Marine Protected Areas (MPAs).