Enforcement and Legislation
Enforcement and Legislation
Page review/updated 23/09/2023
This page, the drop down menu, or the folders below, enables you to view some important information such as the Permit Byelaws, Permit Conditions, the whole Byelaw Book and minimum fish and shellfish sizes. Information about different legislation can also be found in section E of the Resource Library.
ENFORCEMENT OVERVIEW
The Enforcement Team consists of six Inshore Fisheries and Conservation Officers (IFCOs). The Enforcement Team's knowledge and expertise is extensive and underpinned by a varied background of enforcement work. Sea patrols are governed by intelligence received and inputted into the national intelligence model, which is shared amongst other Agencies.
The Enforcement Team currently have use of two separate Rigid Inflatable Boats (R.I.Bs).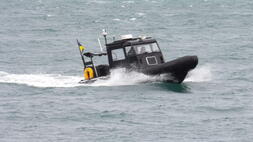 A 7.8 metre vessel named the David Rowe to honour the memory of a former Authority member and also a 6.4 metre Tornado vessel. Both vessels can be transported via trailer throughout the extent of the Devon and Severn IFCA's District. The IFCOs' work comprises of varied shift patterns; incorporating reactive working to respond to immediate threats to the local fishery. Joint working with the Marine Management Organisation (MMO), the Environment Agency (EA) and the Police is paramount as we move forward in sharing resources and this ensures that enforcement work isn't duplicated. Information from patrols, investigations, boardings and prosecutions is recorded on the Monitoring Control Surveillance System (MCSS) which is shared with the MMO.
Legislation and Reporting Suspicious Activity
If you suspect anything or have a general query then please do not hesitate to get in contact with us – Out of hours duty phone number – 07740175479
You can also email:
intel@devonandsevernifca.gov.uk
Officers have produced a Flyer (image right) that also gives details about D&S IFCA and reporting suspicious fishing activity. The flyer can be downloaded by clicking here.
Any personal data that you provide will be held securely and not shared.