Exemptions to Byelaws
Page review/updated 01/12/2023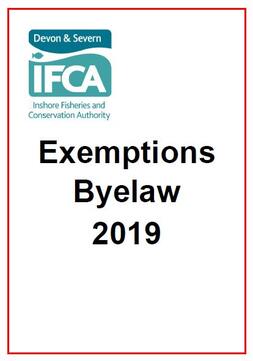 The Exemptions Byelaw 2019 was made by the Authority on 13th June 2019 and was confirmed by Defra on 14th April 2020. The final Impact Assessment for the Exemptions Byelaw can be viewed here and the Final Byelaw Development Report that documents how the Byelaw was made can be viewed here.
The Byelaw enables the Authority to consider an application relating to scientific work or for stocking or breeding purposes where a fishing activity is undertaken that would otherwise be in contravention of one or more of the byelaws, or one or more of the permit conditions as set out in the Byelaws.
The Byelaws and Permit Conditions can be viewed here.
GAINING AN AUTHORISATION (EXEMPTION/DISPENSATION) – THE APPLICATION FORM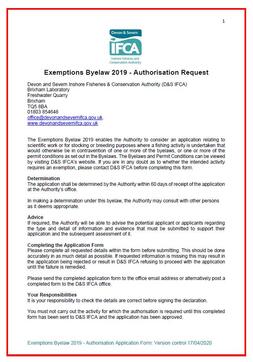 An application form has been created. The word version can be downloaded here and a pdf version can be downloaded here.
Important: Please return completed application forms by email to office@devonandsevernifca.gov.uk or by mail to the address listed here.
Please be aware that it may take up to 60 days of receipt of the application for it to be processed and potentially approved.
ISSUED AUTHORISATIONS 2021/2022/2023
The table/s below provide some details of the authorisations (exemptions) issued by D&S IFCA.