D&S IFCA'S MARICULTURE STRATEGY
D&S IFCA'S MARICULTURE STRATEGY
Page review/updated 24/09/2023
As set out in D&S IFCA's recent Annual Plans, D&S IFCA has developed and published a Mariculture Strategy to highlight core areas where the IFCA may have the opportunity to work with the mariculture sector to evaluate and advance mariculture opportunities and provide information to those interested in entering this sector.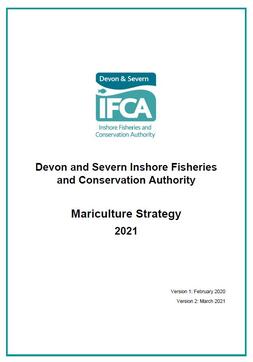 Mariculture, within the context of the Strategy, is defined as: 'The cultivation of fish or other marine life within the marine environment', and therefore excludes cultivation of freshwater species, and cultivation in terrestrial facilities, which are beyond D&S IFCA's remit. In developing the Mariculture Strategy, D&SIFCA has consulted with key mariculture stakeholders within its District, attended multiple conferences and symposiums relevant to the current state of regional UK aquaculture, and conducted reviews of the relevant scientific, industry and policy literature.
D&S IFCA's Mariculture Strategy represents the first steps of a long journey in developing a sustainable mariculture industry in the D&S IFCA's District. Overall, successful future development will require close collaboration between stakeholders across the supply chain, as well as scientists and regulators. D&S IFCA's continuation on this journey will require the pursuit of a set of key actions, which are outlined throughout the Strategy. Actions relate to a range of areas:
Resource development; e.g. to produce a comprehensive guide and online resource library (Mariculture Resource Pack) for new and existing mariculturists, and the development of a Taw Torridge Mussel Management Strategy in 2021–2022.
Activity management: e.g. respond to all relevant marine licence applications and consultations with regard to mariculture, and to manage all plots within the Waddeton Order on the Dart.
Product safety and water quality; e.g. collaborate on projects that seek improvements to upstream water quality management, and to support the consideration of alternative testing and monitoring procedures to improve food safety whilst reducing the current limitations on shellfish production.
Engagement: e.g. to continue dialogue with mariculturists to keep abreast of concerns understand how mariculture interests can be furthered, to continue dialogue with stakeholders to reduce spatial conflict, and to engage with regulators and other bodies to provide a conduit on issues and advances in mariculture to mariculturists in the District.
The full suite of actions is available in Annex 1 of the Mariculture Strategy. As outlined above, a key action for D&S IFCA is to develop an online resource pack that can be used alongside the Mariculture Strategy. The Mariculture Resource Pack will be a useful reference point for current and prospective mariculturists who would like to stay up to date with relevant industry, scientific and regulatory information. This Pack, which will include a Regulatory Framework, should also provide an appropriate set of resources for those seeking to establish or expand mariculture operations in D&S IFCA's District. A tabulated version of the Regulatory Framework, within which mariculturists in the District must operate, is included as Annex 2 to the Mariculture Strategy, along with guidance on export regulations.
The Mariculture Strategy will be reviewed regularly to reflect the progress made and outline changes in costs and benefits in this dynamic system, to assess progress against key actions and to identify where new actions may be required in order to meet the aims of the Strategy, or to account for changes in the legislative framework arising, for example, through EU Exit.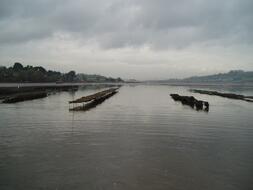 D&S IFCA has also been actively supporting the development of mariculture within the District for almost 20 years. In 2001 D&S IFCA established the Waddeton Regulating Order, in the upper reaches of the Dart Estuary near Galmpton. The Waddeton Order is a hybrid regulating order created to help promote the sustainable growth of mariculture within the District. Through the Waddeton Order, D&S IFCA manages 117 hectares of the Dart Etuary for the sole purpose of mariculture, leasing small highly affordable plots to prospective mariculturists. Mariculture production, from within the Order, is currently focussed on Pacific oysters, however there are licenses available to farm several other species on the plots, including mussels. Promoting established, accessible, and affordable opportunities like this is an important part of the Strategy, and will hopefully create a path to mariculture for parties who seek to enter the industry or diversify from other fishing sectors but have, to date, been unsure how to do so.