IFCA Role in MPA Management
IFCA Role in MPA Management
Page review/updated 24/09/2023
IFCA ROLE IN MPA MANAGEMENT
IFCAs are at the forefront of delivering the UK Government's commitment to protect the marine environment and the ecosystems it supports. Over 16,062km2 of sea area within IFCA Districts is designated as a Marine Protected Area (1914.35 km2 in D&S IFCA's District).
Under Sections 124 to 126, and 154 to 157 of the Marine and Coastal Access Act 2009,
D&S IFCA is responsible for the management of fishing activities within the inshore (0-6nm) area of its District and, as such, must take the necessary steps to ensure that the conservation objectives of MPAs are furthered. IFCAs are also deemed Relevant Authorities for European Marine Sites (EMS; including Special Areas of Conservation and Special Protection Areas), under the Conservation of Habitats and Species Regulations 2017.
D&S IFCA fulfils these duties by implementing and enforcing Byelaws to manage fisheries and protect MPAs, in addition to carrying out research and monitoring work to improve the evidence base for marine and fisheries management. Management of fishing activities can also be introduced on a voluntary basis, for example by Codes of Conduct.
The Revised Approach
In 2012, the Department for Environment, Food and Rural Affairs (Defra) announced a revised approach to the management of commercial fisheries in European Marine Sites (EMS). The objective of this revised approach is to ensure that all existing and potential commercial fishing activities are managed in accordance with Article 6 of the Habitats Directive. This approach is implemented using an evidence based, risk-prioritised, and phased basis. Risk prioritisation is informed by using a matrix of the generic sensitivity of the sub-features of EMS to a suite of fishing activities as a decision-making tool. These sub-feature-activity combinations have been categorised according to specific definitions, as red, amber, green or blue.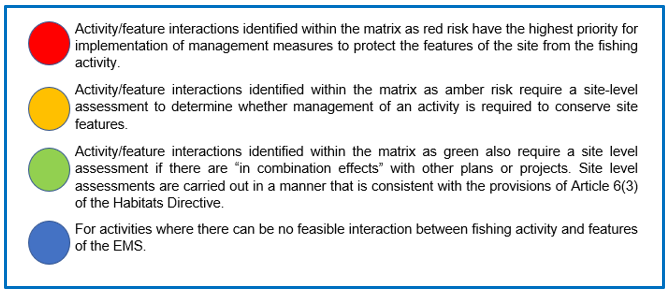 Habitat Regulations Assessment (HRAs)
Once risks are identified within EMSs, HRAs are undertaken for all red, amber, and green (where appropriate) activities. The assessment is used to consider the impacts of the fishing activity on the EMS features by screening for any Likely Significant Effects. If significant effects cannot be ruled out, a detailed and evidence led assessment is completed. This assessment outlines whether the activity will have an adverse effect on the integrity of the site. If it cannot be proved that there will not be an adverse effect on site integrity, appropriate management is required to mitigate the effect (see below).
Marine Conservation Zone (MCZ) Assessments
Under section 154 of the Marine and Coastal Act 2009, D&S IFCA must also document and determine whether management measures are required to achieve the conversation objectives of MCZs, with policy advice to introduce necessary management within two years of site designation. This is achieved by following a similar approach to HRAs (assessing the impacts of individual fishing interactions with the site features in the MCZ).
Managing Fishing Activities within MPAs
Any HRAs and MCZ assessments carried out by D&S IFCA are submitted to Natural England for their formal advice. The assessments and Natural England's advice form the basis for future monitoring and management of fishing activities in MPAs, which can include the introduction of proportionate management measures or the development of Monitoring and Control Plans that detail the on-going monitoring of fishing activity within some sites, against baseline data, and set trigger levels for potential changes in management where appropriate and necessary. Management could include temporal and/or spatial closures to relevant parts of the site, fishing gear restrictions/modifications, catch restrictions or effort restrictions.
D&S IFCA has introduced multiple management measures, including many relating to the protection of Marine Protected Areas (MPAs). D&S IFCA has 22 Marine Protected Areas, which cover approximately 42% of its District. Certain fishing activities are permitted within these MPAs provided that they do not pose a risk to the designated features and achievement of the conservation objectives of the sites.
MPA work currently being undertaken by D&S IFCA is outlined in its Annual Plan.