Wrasse
Page review/updated 24/09/2023
LIVE WRASSE FISHERY
As outlined below, the Live Wrasse Fishery is not currently active in Devon and Severn IFCA (D&S IFCA)'s District. During its operation, this fishery was highly regulated and fully documented, allowing for successful application of D&S IFCA's adaptive management, intelligence-led enforcement, and collaboration with local researchers.
Background
The Atlantic salmon aquaculture industry is a major sector in finfish aquaculture with, Scotland being one of the top three producers of Atlantic Salmon globally. Scottish farms produced 162,817 tonnes of salmon, equal to a value of £765 million in 2016. However, sea lice infestation is one of the most challenging issues faced by the Atlantic salmon aquaculture industry. Traditional methods of sea lice control involve the use of pesticides; however, these chemical treatments are becoming less effective as sea lice have begun to develop resistance.
The wrasse family (Teleostei: Labridae) is a large and widely distributed group of marine fishes, found in both tropical and temperate seas. Wrasse display a wide variety of life history strategies (combinations of age- and stage-specific patterns and timings of life events such as growth, maturation and reproduction), making them one of the most ecologically and morphologically diverse fish families. Five species of wrasse are common in temperate reef habitats in the northeast Atlantic, including around the British Isles: ballan (Labrus bergylta), corkwing (Symphodus melops) goldsinny (Ctenolabrus rupestris), rock cook (Centrolabrus exoletus), and cuckoo (Labrus mixtus) wrasse. These fish carry out a cleaning behaviour that was first observed in 1973. Subsequent trials conducted in 1983 identified that wrasse could be used to control parasites in salmonid aquaculture. As a result, a commercial fishery targeting live wrasse began in 1988 in Norway, 1989 in Scotland and 1990 in Ireland.
Fishing for live wrasse began in Southwest England (Dorset, Devon and Cornwall) in 2015 because local supply in Scotland could no longer meet demand, and warmer sea temperatures in Southwest England allowed longer fishing seasons. Four species of wrasse are targeted in the fishery in D&S IFCA's District: goldsinny, corkwing, ballan, and rock cook. Cuckoo wrasse are rarely caught but are not retained.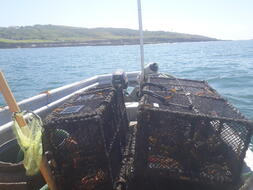 The live wrasse fishery in the D&S IFCA District comprised up to four vessels per year, each ranging from approximately five to ten metres in length. Over the course of 2017–2020, some vessels left the fishery and were replaced by new entrants. No fishing has taken place in 2021-22, but the fishery previously operated within Plymouth Sound and the surrounding coastal waters. Fishing activity was most common between July to October, but some fishing occurred as late as December in some years. The fishery is subjected to a closed season between April and mid-July in D&S IFCA's District. Fishers use wrasse traps (pots) with escape gaps, with multiple pots attached to one 'string'.
Introduction of Management
Due to the complex nature of this fishery D&S IFCA carried out an extensive review of wrasse ecology and fisheries interactions in order to gain more in-depth knowledge and understanding regarding their life history traits and any ecological impacts that may arise from targeting this species.
As the live wrasse fishery in Plymouth Sound occurs within the Plymouth Sound and Estuaries Special Area of Conservation (SAC), D&S IFCA has a duty to ensure the fishery is sustainable and does not negatively impact the designated features or integrity of the SAC. As a result a summary of evidence and reasoning for the introduction of management measures to the live wrasse fishery was prepared for Authority members.
Although wrasse are not designated as a feature of the SAC, D&S IFCA conducted Habitats Regulation Assessments (HRAs) in order to determine the effect of the fishing activities on the conservation objectives of the Plymouth Sound and Estuaries SAC's qualifying features.
This assessment, as agreed by Natural England, concluded that the activity would be unlikely to have a significant effect in view of the site's conservation objectives. However, Natural England agreed that the fishery needed to be closely monitored and any impact on the MPA's ecosystem as a whole would be determined by the sustainability of the fishery.
Due to a lack of available data, at the time of the emerging wrasse fishery, on the impacts of such a fishery on stock abundance or reef ecology, D&S IFCA proposed new data collection priorities in order to inform fisheries management decisions. Management measures were subsequently implemented in June 2017, through the Potting Permit Byelaw conditions. These included a limit of 120 pots per vessel, minimum and maximum conservation reference sizes for landings, temporal and spatial closures and requirements for fishers to submit landings data from every fishing trip. The management measures introduced by D&S IFCA have been under review ever since.
Data Collection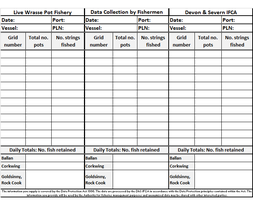 As part of the management measures, an intensive data collection programme was introduced in 2017. This programme aims to capture temporal and spatial trends in catches and landings per unit effort (CPUE and LPUE) allowing D&S IFCA to closely monitor the fishery.
CPUE is the number of fish caught per pot, while LPUE is the number of those fish that are within the Conservation Reference Size range and were retained by the fishers. This involved collection of landings data recorded on forms by fishers and returned to D&S IFCA. Data recorded on these forms include the total number of wrasse retained per day and the location of fishing activity.
In addition to the landings data, D&S IFCA's Environment Officers have carried out observer surveys of the wrasse fishing vessels every year since 2017. Officers record the start and end position of each string of pots, and the number of pots per string. Each wrasse caught is then identified to species level, measured for length, checked for signs of spawning and sexed where possible. Fish within the minimum and maximum conservation reference sizes are retained whilst any that are below the minimum or above the maximum conservation reference sizes are returned in such a way as to minimise predation by seabirds and ensure survival.
REPORTING ON THE LIVE WRASSE FISHERY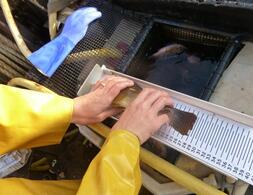 A report has been produced each year based on the data collected during that year, and the management measures have been appropriately adjusted based on the best evidence available at that time, to ensure the continued sustainability of the fishery. The reports were used as the basis for reviews of the relevant HRAs, conducted in August 2020 and 2021, for the impacts of fish traps on rock(including the fish communities of rocky reef ecosystems), intertidal sediments, subtidal sediments, seagrass and shad.
Natural England's advice on these HRAs is also available here, and outlines that D&S IFCA has used the best available evidence to carry out these assessments and to determine whether management is required to ensure the protection of site features from direct and indirect impacts of fishing with wrasse pots. It is Natural England's view that D&S IFCA's officers have appropriately identified: (1) activities likely to have a significant effect on site conservation objectives; and (2) any management measures required in order to ensure there will be no adverse effect on the integrity of the European Marine Site(s). Natural England has confirmed that it believes that any foreseeable risk or harm to designated sites has been appropriately assessed and agrees with D&S IFCA's conclusion of no adverse effect to site integrity. Natural England has also highlighted that D&S IFCA's ongoing commitment to monitoring this fishery, together with the application of the current thinking on adaptive risk management, provides an appropriate mechanism for re-assessing this risk.
A summary of all changes to the management measures to date can be found here. This report has been produced to document the decision-making process for the changes to the Potting Permit Conditions and merges all relevant information into a single publication. Individual reports documenting changes to permit conditions can be found in the Resource Library (Section F – Byelaw Development & Reports).
The latest D&S IFCA report on the live wrasse fishery can be found here. As no wrasse fishing has taken place since the closed season ended in mid-July 2021, the most recent wrasse report summarised the history of the live wrasse fishery and its management measures to date and discussed the future of the fishery in D&S IFCA's District. The report also reflects on D&S IFCA's management decisions to date in the context of advances that have been made in the literature since D&S IFCA's first literature review in 2016.
SUMMARY OF THE LATEST REPORT
In 2021, the Live Wrasse Fishery opened on 16th July but no fishing for live wrasse took place, initially due to mechanical problems with one of the permitted vessels. Although the second permitted vessel had no such problems, this fisher recognised that wrasse should not be held in storage areas for extended periods, and therefore decided not to fish as he would not be able to catch enough wrasse in a short timeframe to warrant booking a transport to Scottish salmon farms.
Wrasse fishers in D&S IFCA's District have supplied wrasse to the same Salmon Farm Agent since 2017. In August 2021, this Agent confirmed his intention to stop sourcing wrasse from D&S IFCA's District, with immediate effect. The Agent cited the mechanical issues highlighted above as an underlying element in this decision, but also indicated that the continued prohibition on the removal of rock cook wrasse from the fishery was a determining factor.
As there is no longer a viable market for those who would otherwise target live wrasse in D&S IFCA's District, Officers have requested that the fishers return the identification tags used to mark wrasse pots. The use of unmarked pots for the capture of live wrasse would be in contravention of the Potting Permit Byelaw Conditions. D&S IFCA's enforcement patrols will monitor potting in Plymouth Sound. The future of the Live Wrasse Fishery in D&S IFCA's District will likely be partly shaped by the ability of wrasse aquaculture facilities and other Live Wrasse Fisheries to meet demand from salmon farms. Although the Salmon Farm Agent indicated no clear intention to begin sourcing wrasse from Devon in future years, he also suggested that the production of wrasse in aquaculture facilities (an alternative to live capture of wrasse) is slow and somewhat unreliable, and that the cleaning efficacy of cultured wrasse remains untested.
This break in the District's Live Wrasse Fishery has provided an opportunity to reflect on D&S IFCA's management decisions to date in the context of advances in the literature since D&S IFCA's first literature review in 2016. Reviewing D&S IFCA's management measures ensures knowledge on the most recent research is up to date, which will be useful if the fishery begins again in future years.
The Nordic Council of Ministers recently commissioned a report which reviewed, and made recommendations for, management measures in cleanerfish fisheries (Halvorsen et al., 2021). D&S IFCA's most recent report on the Live Wrasse Fishery (link above) reflects on D&S IFCA's current management measures in light of these recommendations. The recommendations were made primarily for the larger-scale established Norwegian fishery so may be more precautionary than is needed in D&S IFCA's District. Nevertheless, as D&S IFCA's full report explores in detail, most of D&S IFCA's current management measures are aligned with the recommendations. It is therefore likely that D&S IFCA's management measures are sufficient to ensure sustainability of wrasse stocks if the Live Wrasse Fishery were to begin again at the currently-permitted scale. In addition, D&S IFCA's management measures were introduced over a short timescale relative to those in Scandinavian countries, assisted by D&S IFCA's adaptive permit-based management approach.