Notices
Page review/updated 23/09/2023
This website page provides a selection of information that may include:
Notices that are in the interests of all, or some, permit holders (fishers) with the District.
Details relating to fishing gear that has been inspected and seized by D&S IFCA Enforcement Officers – (Notices as required by s265 Marine & Coastal Access Act 2009)
D&S IFCA NOTICES FOR PERMIT HOLDERS
D&S IFCA makes effective use of its data base of permit holders (fishers) to provide direct communications that are in the interests in all, or some, of those fishers. This includes consultation circulars and Notices to Permit Holders sent via email and sometimes in hard copy format. This website page displays recent Notices to Permit Holders and provides links to information. 
SEIZURE OF POTS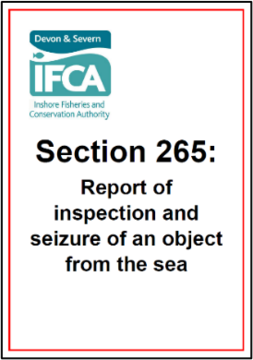 At 1700 hours, on the 8th September 2023, Devon and Severn Inshore Fisheries and Conservation Authority (D&S IFCA) Enforcement Officer Christopher Mills inspected static gear located at KINGS HOLE near BEER.
The inspected gear consisted of:
A string of two black plastic Poly-Pot prawn pots with attached line and marker buff.
The pots were seized and are held in the D&S IFCA's gear storage compound.
The pots, used for fishing for prawns were seized because:
The marker buff was marked with an expired Permit number.
The Potting Permit Byelaw
Paragraph 2 of the D&S IFCA Potting Permit Byelaw states:
2. It is prohibited for a person to use pots for fishing within the District otherwise in accordance with a permit.
Claiming the Pots
If you believe these pots are yours then please contact the D&S IFCA Office or Enforcement Officer Christopher Mills.
D&S IFCA Office: office@devonandsevernifca.gov.uk
Tel: 01803 854648
Enforcement Officer Christopher Mills: c.mills@devonandsevernifca.gov.uk
Tel: 07850 096030
It is proposed that D&S IFCA will retain the pots and conduct an investigation.
SOUTH DEVON INSHORE POTTING AGREEMENT – TRAWLING & CRABBING CHART 2023
In December 2022, D&S IFCA directly contacted all permit holders that have a Category One Mobile Fishing Permit, a Category One Potting Permit and a Category One Netting Permit.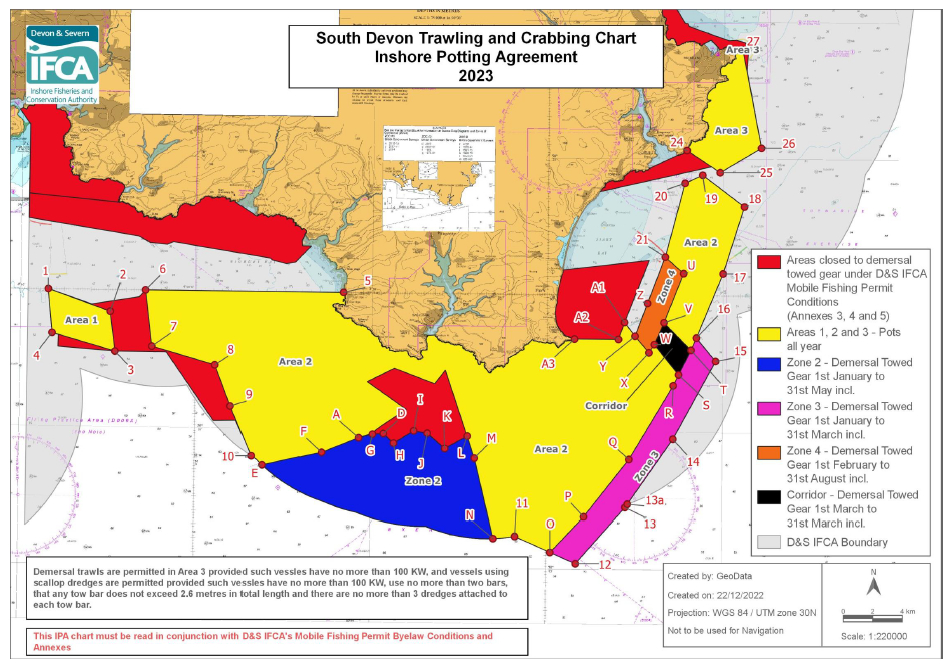 Information was provided about the 2023 chart that explained that although there are no changes to the chart in terms of time restrictions and spatial changes, there are some changes to the points to align with D&S IFCA's Mobile Fishing Permit Conditions (Annexes).
More information can be found on our South Devon IPA – Trawling & Crabbing Chart display page and the following links provide more detail.
Page updated: 25th January 2023.
End.