Updated – 3rd April 2023.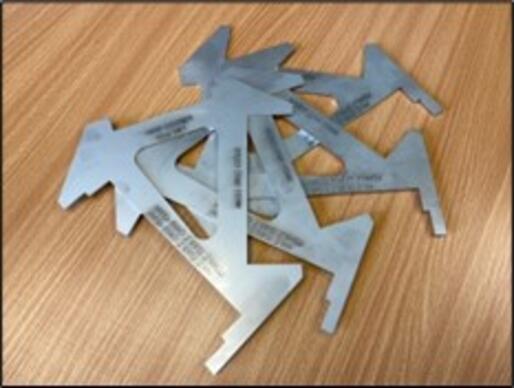 Due to popular demand, we have more fixed shellfish gauges available to purchase.
D&S IFCA has introduced Minimum Conservation Reference Sizes (MCRS) for selected shellfish within its District. To assist fishers to remain compliant with the legislation, gauges have been produced that are locally made from 316 stainless steel and will be of use to measure the following species:
Male Edible Crab (160mm)
Female Edible Crab (150mm)
Spider Crab (130mm)
Lobster (90mm)
The gauges can be purchased from D&S IFCA at a cost of £5.00 each. The gauges can be collected in person from the D&S IFCA office in Brixham or alternatively, they can be posted for an additional cost (2nd class) as follows (prices valid from 1st April 2023):
1 Gauge £1.85 postage
2 Gauges £2.40 postage
3 Gauges £2.70 (maximum 3 Gauges per envelope)
If purchasing more than three gauges, please contact the Office to discuss postage options and the postage costs.
Payment Methods: Cash, cheque, or Bacs.
If you have any questions regarding the gauges or the Minimum Conservation Reference Sizes, please contact us on 01803 854648 or email the Office email address:
Office@devonandsevernifca.gov.uk
You can choose to visit our 'Contact Us' page on the website to get full details on how to contact and talk to one of our Officers.
ENFORCEMENT ACTION
D&S IFCA's enforcement work is intelligence led. If you see any suspicious fishing activity, please report it to us on the duty telephone number: 07740 175479.
Alternatively, you can email: intel@devonandsevernifca.gov.uk
Any personal data that you provide will be held securely and not shared.
OTHER INFORMATION
Additional information relating to Enforcement and Legislation can be found by visiting our Enforcement & Legislation website pages.