C) Audits & Accounts
Page review/updated 10/11/2023
For information regarding Audits and Accounts please contact D&S IFCA's Finance and Administration Manager – Olga Pepper:
Email: o.pepper@devonandsevernifca.gov.uk
Telephone: 07395 358172
For information regarding budget setting and funding please contact D&S IFCA's Chief Officer – Mat Mander
Email: m.mander@devonandsevernifca.gov.uk
THE FINANCE WORKING GROUP (FWG)
At the Authority Meeting on 13th of October 2022, Members decided:
That the Finance and General Purposes Sub-Committee is disbanded and replaced with a Finance Working Group & the Terms of Reference are accepted as written in the Officer Paper with the addition of the wording "Special Meeting will be called as required".
The Finance Working Group will meet remotely as required.
The Terms of Reference for the Finance Working Group can be viewed here.
FINANCIAL PROBITY AND FINANCIAL AND ADMINISTRATIVE REGULATIONS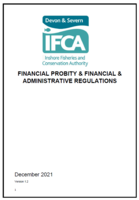 In 2021, these regulations were separated from the Standing Orders.
The most recent version (V1.4 – November 2023) can be viewed here.
PAPERS FOR MEETINGS AND MINUTES FROM MEETINGS
Papers and minutes from Authority meetings are posted on the Authority Meetings Page.
A more comprehensive collection of papers and minutes from meetings can be viewed in Section B of this Resource Library.
Page Updated: 10th November 2023.