Guidance for Fishers: Lobster and Spiny Lobster
Following increased levels of 'V'- notched, mutilated, and berried lobster being discovered when boarding fishing vessels or when undertaking shore inspections, D&S IFCA Officers have produced some guidance for fishers to help them remain compliant with D&S IFCA's Permit Conditions.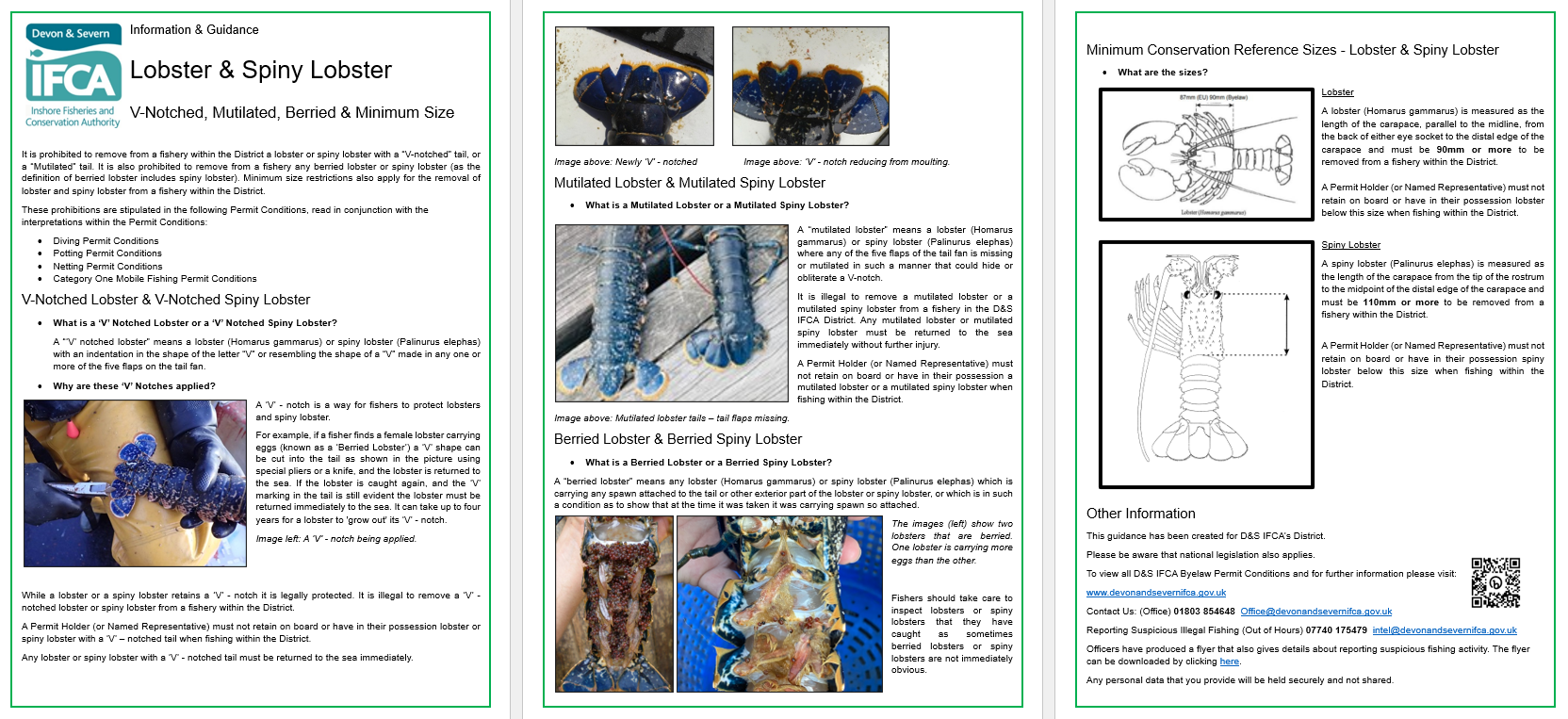 It is prohibited to remove from a fishery within the District a lobster or a spiny lobster with a "V-notched" tail, or a "Mutilated" tail. It is also prohibited to remove from a fishery any berried lobster or spiny lobster (as the definition of berried lobster includes spiny lobster). Minimum size restrictions also apply for the removal of lobster and spiny lobster from a fishery within the District.
These prohibitions are set out in the following Permit Conditions, read in conjunction with the interpretations within the Permit Conditions:
Diving Permit Conditions
Potting Permit Conditions
Netting Permit Conditions
Category One Mobile Fishing Permit Conditions
GETTING THE GUIDANCE
The new guidance is being directly circulated to Permit Holders (commercial and recreational fishers) that have provided an email address and focusses on some specific D&S IFCA Permit Conditions that are relevant to lobster and spiny lobster.
You can also view and download the guidance by clicking here.
Hard copies of the guidance are also available upon request.
Fishers should be aware that national legislation also applies.
REPORTING SUSPICIOUS FISHING ACTIVITY
To report suspected illegal fishing then please do not hesitate to get in contact with an Enforcement Officer. We have an out of hours duty phone number: 07740 175479.
You can also email: intel@devonandsevernifca.gov.uk
A flyer has been produced that also gives details about reporting suspicious fishing activity. The flyer can be viewed and downloaded by clicking here.
Any personal data that you provide will be held securely and not shared.